Remarks by Commissioner of HIRA International Group at the APEC Conference
Commissioner Ryu, Jong-su, Korea Health Insurance Review & Assessment Service (HIRA) delivered the first plenary's keynote speech on "The Global Trends of Utilizing Digital Infrastructure and New Data Technologies: Korea's Lessons and Knowledge Transfer Experience to LMICs" at Asia-Pacific Economic Cooperation's Conference on August 8-9, 2019 in Chinese Taipei.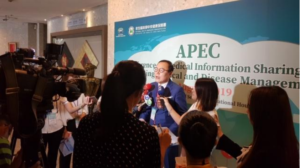 Commissioner Ryu recommended countries to set up a clear and pragmatic guiding principles and objectives on "what data should be collected," "how these data will be utilized," "who has ownership of these original data and analyzed outcomes," and "what mechanism are employed to collect and store and analyze data." Commissioner Ryu emphasized the nationwide digitalized data collection infrastructure must be designed to produce "Evidence-Based Measurable Data" so that the data will be trusted by the core stakeholders of national healthcare universe: Patients, Policy-makers, Providers, Payer (4P). He also introduced that how Korea has been benefited by collecting and analyzing data by using the state of art ITC Technologies. For example, HIRA's Nationwide Drug Utilization Review System (DUR) in conjunction with HIRA's Quality Assessment Program has induced Korean physicians' antibiotic drug prescription tendency for treating common cold symptoms, reducing the number of antibiotic drug prescription 35.3% from 2008 to 2016 which caused to improve patient's safety and save over $200M during 8 years. He presented a very clear example of improving quality and safety of medical service while saving millions dollars by preventing unnecessary antibiotics prescriptions with evidence based measurable data.
Also, he explained one of many digitalized capacities of HIRA DUR system. The nationwide connected real time operating DUR system, which was originally developed to conduct real time drug safety checking, nowadays performs many functionalities as a digitalized national epidemic surveillance, national pharmaceutical product transaction monitoring, urgent drug crisis management and national drug inventory monitoring and management Commissioner Ryu introduced that how DUR system is employed to effectively manage worldwide Valsartan Crisis in Korea. On July 5, 2018, US FDA announced the recall of hypertension treatment drugs contained Valsartan ingredient for causing cancer. This urgent drug safety crisis occurred over 90 countries according to WHO. US FDA advised the US citizens through mass media that the patients who took hypertension drugs to check those reported Valsartan contained drug names on the label of their drug bottle and to call their doctors to get replacement with safe drugs. The U.S. government and many other governments in the world were not able to identify total number of patients received the troubled drugs in their country and contact information of those patients and monitoring of return and replacement progress. On the other hand, Korea utilized HIRA's DUR system to identify 178,536 patients who received those drugs within couple of hours after the Korea FDA's recall announcement on July 5th and the DUR system sent out alert notification with patient contact information to the drug prescribed physicians and dispensed pharmacists to guide their patients for replacement with safe drugs immediately. 3 days later the DUR system reported that 99.93% of the effected patients (178,415) received safe replacement drugs and the cost of replacement and transactions and professional fee of process were 100% covered by NHI Fund. The NHI Fiscal Management system in conjunction with the DUR system was able to report the total expense of replacement process at real time. Any country on the earth may encounter this sort of drug safety crisis again in the future since nations are under enormous fiscal pressure to deal with NCDs and tend to buy inexpensive drugs from manufactures with inadequate quality monitoring standard according to WHO. Mr. Ryu emphasized that the government of each nation and national health regulatory body are accountable for ensuring approved drugs' and medical devises' safety and they must be equipped with real time functioning digitalized safety monitoring and risk management system for fulfilling government's obligation of protecting health and safety of the citizens. He also urged the attended international experts that government must work rigorously and resiliently to introduce innovative health safety tools and enhancement of polices to earn its citizens' trust.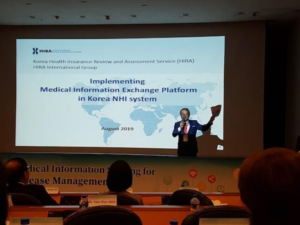 He illustrated how laws and regulatory framework must be built and these rules have to be guiding principles to build ICT infrastructure. His rich experience and knowledge on national healthcare capacity building and ICT based National Health Insurance management accumulated by conducting consultation projects over 40 countries past years offered an authentic and splendid learning opportunity to the national healthcare experts from 34 nations. It was very clear through Commissioner Ryu's speech that the following common challenges will cause heavy burden on national healthcare and government finance to every countries on the earth:
aging population;
increasing NCD patients;
high technologies based medical equipment, materials and drugs;
rapid climate changes and pollution;
waste and inefficiency of current medical service delivery dynamics.
To effectively work with these emerging challenges Commissioner Ryu, Jong-su urges that nations must establish ICT based national healthcare expenditure and quality monitoring system that produces evidence based measurable data which will be utilized to maintain appropriate heath care expenditure and continuously enhance up-leveling national healthcare quality. Also, he emphasized that practice of prudent knowledge sharing practice among nations so that LMICs do not need to reinvent wheel for building nation's healthcare capacity. Another point he made was that leap-frog effect that with employing advanced and proven technologies and know-hows LMICs do not need to take a long time to make a digitalized national healthcare management infrastructure as the time it had taken for the developed countries without learning reference and active knowledge sharing.
Over 300 audiences had a long lasting impression by Commissioner Ryu's closing remarks for his Keynote that "high functional digitalized national healthcare expenditure and quality management system without building and utilizing inexpensive and effective community based NCD preventing and treating primary healthcare system, any countries will encounter so much challenges on the path to achieve UHC. Korea's experience of having poor community based primary healthcare service and expensive and high capacity hospital centered supplier driven national healthcare dynamic explicitly suggests an obvious lesson that countries must set a top policy priority on developing and operating very functional community based primary healthcare services. Nowadays Korean government designed and introduced healthcare reform program based on the big data collected and analyzed which gears to offer financial incentives for those community based clinics to provide quality service and maintain a good size of NCD patients. And, financially penalizing those general and tertiary hospitals which treat and maintain a large number of NCD patients without the proven necessary indicated clinical condition data. Your Excellencies and esteemed colleagues and dear friends! Please learn a valuable lesson from Korea's dreadful challenges!"
Over 300 participants from 34 nations including Canada, China, Japan, the Philippines, Russia, Thailand, USA, and Vietnam were participating at Commissioner Ryu's session and they were composed of academics, high level government officers and top managers of National Health Insurance Administration of those countries. APEC sponsors annual conference on national healthcare subjects with globally well recognized speakers with distinguished professional achievements to share their pragmatic knowledge and know-hows with APEC member nations.