Empanelment in Ghana: Person-Centered Integrated Care Collaborative
Ghana has been an active member of the Person-Centered Integrated Care (PCIC) collaborative of JLN–participating in all meetings, as well as hosting the second meeting in Ghana in March 2018 when the key components of the collaborative's definition of empanelment were identified.
Together, members of the collaborative authored an Empanelment Summary and an Empanelment Assessment Tool. We in Ghana believe that key lessons in improving this tool was made stronger due to the lessons learnt from the Ghanaian health system, particularly the Community-Based Health Planning and Services (CHPS) component.
The Importance Of Empanelment In Ghana's Current Universal Health Coverage (UHC) Agenda
Empanelment deals with identifying community members individually, assessing them, assigning, and caring for them with a digital record of the process. Interestingly, the past three themes of Ghana's Health Summit demonstrated the alignment of Ghana's policy ideology over the past few years with the empanelment concept. In 2019, the "Health Summit" organized by the Ministry of Health in Ghana was themed "Ghana's movement towards achieving universal health coverage (UHC) – Strengthening Primary Health Care (PHC)". The 2021 Health Summit was themed "Strengthening the resilience of Ghana's health system to better respond to emergencies". The 2022 Health Summit was themed "Strengthening Ghana's Health Information System for Tracking Universal Health Coverage (UHC)". Since empanelment is at the core of Primary Health Care since community members need to be identified before effective and tailor-made care can be delivered proactively, the expected roll out of NoP in Ghana syncs in tandem with the vision of the country to ensure sub-district health delivery systems take advantage of empanelment to strengthen primary health care at that level. The resilience of Ghana's health system will partly depend on the continuous use and entrenchment of empanelment at the sub-district level that shall ensure the identification of community members who need urgent, continuous care even during a public health emergency such as the COVID-19 pandemic. Empanelment will thus facilitate the identification of these vulnerable community members and through that devise the most appropriate interventions to address their health concerns and needs. Finally, the data generated on community members during the identification, assessment and care-provision phases of empanelment will feed into Ghana's Health Information Management System and facilitate the tracking of progress towards Universal Health Coverage.
Ghana's current policy drive towards achieving full Universal Health Coverage (UHC) is now further being complemented by the comprehensive roll out of the Networks of Practice (NoPs) that is geared towards strengthening primary health care at the community & sub-district levels. The strategic roll out is not only to ensure comprehensive primary health care at the lower level of care but also to ensure sub-district referral systems are more resilient and responsive to the health needs of the community members they intend to serve. This is expected to create health services as networks such as school-based infirmaries, work-based infirmaries, CHPS Zones and health centers that will form a network of practice at the sub-district level to deliver comprehensive baseline primary health care. Empanelment will support these Networks of Practice to identify and assign community members to care teams within the Network.
Effective comprehensive primary health care in Ghana, through the implementation of Networks of Practice is expected to go a long way in addressing the current trends in fighting non-communicable diseases (NCDs).
Empanelment in the Fight Against NCDs
Currently in Ghana, the contribution of non-communicable diseases (NCDs) to premature deaths is on the rise. Chronic kidney disease, diabetes, ischemic heart disease, liver cirrhosis and liver cancer all increased their contribution to premature deaths (Years of Life Lost or YLLs) by more than 100% between 1990 and 2010. Strokes increased their contribution to YLLs by 74% within the same period.
Between 19% and 48% of Ghana's adult population is hypertensive, with less than a third of this number being aware of their status. Less than 10% of hypertensives in Ghana have their blood pressure well-controlled.
Over 6% of Ghanaians have been found to be diabetic in some studies, with more than two-thirds of them not being aware of their condition. This "two-thirds" will not present to health facilities unless they feel unwell, but empanelment can identify and reach out to them through detecting their conditions during routine assessments.
Empanelment was defined by the PCIC collaborative "as a continuous, iterative set of processes that identify and assign populations to facilities, care teams, or providers who have a responsibility to know their assigned population and to proactively deliver coordinated primary health care towards achieving universal health coverage". Ghana's Primary Health Care system has built-in empanelment model which has been in operation for over 17 years in the form of the CHPS Concept, with full roll out of Network of Practice (NoP) in Ghana soon going to further strengthen it. The emergence of NoPs which is to offer wholistic concentrated defined primary health care services to confined geographical catchment areas shall largely rely on empanelment to support the deepening of the understanding of health care delivery needs to these catchment areas by rolling out tailor made effective supportive & responsive treatments & care designed to address these needs.
Activities of the PCIC Ghana Team Prior to the COVID-19 Pandemic
Prior to March 2020, Ghana had expressed interest in Piloting the Empanelment Assessment Tool (PEAT) developed by the collaborative. The needed approvals had been secured from the Ministry of Health and the implementing agency had been identified and engaged.
Though the feasibility of the initial implementation of the draft empanelment tool that was piloted on some few selected lower-level facilities in Ghana was largely not in doubt, the learning objectives of the intended PEAT were to "identify actionable information about the scale up feasibility, acceptability, and face validity of this final tool". We believe that a wealth of knowledge and experience is obtainable from Ghana's health system towards the goal of "enhancing the tool's utility as a global public good" especially aimed at addressing primary health care needs & concerns of ailing citizens.
Preliminary Plan for Tool Piloting in Ghana
The tool was to be utilized at both National/Sub-national level and at facility level.
At the National/Subnational level, the following organizations were identified as key stakeholders in the empanelment process:
Ministry of Health
Ghana Health Service
National Health Insurance Authority
Christian Health Association of Ghana
Society of Private Medical and Dental Practitioners
Community Advocacy Groups
A stakeholder sensitization meeting was also to be organized, led by the JLN CCG to present the Empanelment Summary and Assessment tool to the key stakeholders identified above. The meeting was to be held to sensitize stakeholders on the work done by the JLN on empanelment, and to seek their consent and support with the PEAT.
The outputs for the meeting were to be as follows:
A report which will detail the opinions of stakeholders on empanelment and how best to integrate it in the existing primary health care deliveries of the country.
Focal persons or teams within each agency to administer the national/subnational assessment tool.
Facilities to be used for the facility-level PEAT.
After the above meeting, separate meetings were to be held with National stakeholders to administer the national/subnational tool.
Selected facilities within the chosen district (Shai Osudoku) were to be contacted with the necessary introductory letters. District and facility-level stakeholders were to be sensitized on the JLN empanelment framework, followed by discussions to get their views.
Finally, the PEAT (district and facility level) was to be conducted. This process was to be repeated in all selected facilities.
Unfortunately, the recording of the first case of Covid-19 pandemic in Ghana on the 12th of March 2020 and subsequent rapid spread of the virus across the country thwarted the implementation of the PEAT due to nationwide ban of free movement. The PEAT implementation was thus put on hold until further notice. However, Ghana's ultimate expectation was that the expected roll out was to effectively formalize how empanelment could strengthen delivery of care at the CHPS and health center levels. Refreshingly, the emergence of the NoP concept is timely as it seeks to leverage on empanelment to deepen primary health care at the sub-district & community levels.
PEAT Core Team Members in 2020
Technical Lead: Dr. Isaac Morrison
Senior Advisor: Dr. Gilbert Buckle
Project Coordinator: Dr. Momodou Cham
Survey Coordinator: Mr. Leonard Abbam Anaman
Author Bios
Dr. Isaac Morrison (Technical Lead)
Dr. Morrison is a physician with over 30 years of experience in the health sector in Ghana. He has worked at every level of healthcare provision in Ghana. He has also worked in both public and private healthcare systems, and he brings a wealth of service and leadership experience into the team.
Dr. Morrison also has post-graduate degrees in Public Health, Business Administration, Law and Health Policy among others.
He is currently the National President of the Society of Private Medical and Dental Practitioners in Ghana, a member of the Governing Council of the Ghana Medical Association, a Board Member of the National Health Insurance Authority, and a member of the Governing Board of the Ministry of Health and others.
He sits on several committees of the Ministry of Health and other allied ministries.
He is a contributing author to over five published policy documents of the Ministry of Health and three other international monographs published by the Joint Learning Network.
Dr. Gilbert Buckle (Senior Advisor)
Dr. Gilbert Buckle is a Public Health Physician and a certified Organization and Systems Development Coach and Practitioner. He holds an MBChB and MPH. He served as a Municipal Director of Health Services for the Ministry of Health for 2 years, then went on to head the Department of Health of the National Catholic Secretariat for 10 years, then moved on to become the Executive Director of the Christian Health Association of Ghana for 4 years.
In August 2014 Gilbert was appointed the Chief Executive Officer of the premier national referral and teaching hospital in Ghana and the third largest hospital in Africa, the Korle-bu Teaching Hospital.
Gilbert has over 22 years of working experience in the public and private health sectors in Ghana, 17 years of which has been in senior management and top leadership roles with responsibility for the overall development and performance of health services. He has provided consultancy services to the Ministry of Health of Ghana, the World Health Organization and other international health institutions operating in Ghana.
Mr. Leonard Abbam Anaman (Survey Coordinator)
Mr. Anaman is a Deputy Chief Accountant, Senior Advisor, and the Senior Coordinating Manager at the office of the Director of Finance, Ghana Health Service Headquarters. He holds a Bachelor of Commerce (University of Cape Coast), Bachelor of Laws (University of Professional Studies), MBA Accounting option (University of Ghana), Master of Arts in Economic Policy Management (University of Ghana), Master of Public Health (University of Ghana), PhD in Public Administration & Policy Management (Terminal stage) & member of various professional bodies. He also holds a Master's in Public Sector Management from Ghana Institute of Management and Public Administration (GIMPA) where he emerged the overall best graduating Masters' Student and the Valedictorian for the 2015 graduating class.
He has over 22-years of senior level management experience in public financial management, health financing, health policy, health economics, structured syndicated management of donor funded projects and an authority in organizational change & new public management as drivers in modern public service deliveries.
Dr. Momodou Cham (Project Coordinator)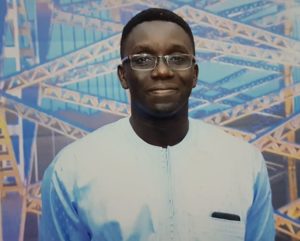 Momodou is a Public Health Physician with over 10 years' experience in Primary Health care in rural communities.
He works in the Ministry of Health under the Christian Health Association of Ghana. He is a graduate of the University of Ghana Medical School (MBChB) and the Ensigh College of Public Health (MPH).
He served as a Medical Director in District Hospitals for 11 years and is a strong advocate of community-based approaches to health care.
He worked closely with the Regional Health Directorate (Volta Region), National Catholic Health Service and Christian Health Association of Ghana to advocate for innovations and strategies to fight NCDs and achieve UHC.
He is involved in the provision of community-based medical services to over 27 communities in the Greater Accra, Volta and Eastern regions of Ghana through Non-Governmental Organizations (NGOs).
He has coordinated projects and missions with international volunteers, mainly from Italy who come to work at the Comboni Catholic Hospital which he headed for over 8 years. He also coordinated internationally funded research projects into Parkinson's disease, managed research grants and donor funds to his hospital.
He has authored/contributed to over 15 published articles on subjects ranging from health systems, communicable and non-communicable diseases.
References
Ministry of Health, Ghana (2022). Health Summit 2022. https://healthsummitgh.org/
Bosu W.K. (2010) Epidemic of hypertension in Ghana: a systematic review. BMC Public Health. 10:418. doi:10.1186/1471-2458-10-418.
Amoah A.G.B., Owusu S.K. & Adjei S. (2002). "Diabetes in Ghana: A community-based prevalence Study in Greater Accra". Diabetes Research and Clinical Practice. Volume 56, Issue 3, June 2002, Pages 197-205.
Ofori-Asenso R., Agyeman A. A., Laar A., Boateng D. (2016). "Overweight and obesity epidemic in Ghana—a systematic review and meta-analysis". BMC Public Health. 2016; 16:1239 https://doi.org/10.1186/s12889-016-3901-4.
Institute for Health Metrics and Evaluation. Global Burden of Disease: Ghana (1990-2010). http://www.healthdata.org/ghana
World Health Organization (2017). Reforming Health Service Delivery for Universal health Coverage. WHO/HIS/SDS/2017.9
www.ghanahealthservice.org/chps/category.php?chpscid=98
Anaman L. A. (2019). "Assessment of CHPS basic package of services at Shai Osudoku District of Greater Accra Region of Ghana". (published).
Ministry of Health, Ghana (2016). National Community-Based Health Planning and Services (CHPS) Policy.
Have any reflections from your JLN experiences? Please share them using the comments feature, below.