JLN Kenya: Facilitating Joint Learning Between National and County Health Authorities in the Fight Against COVID-19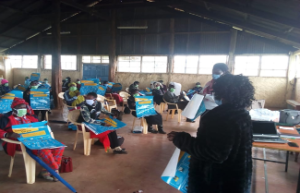 Author: Esther Mukoa Wabuge
The COVID-19 pandemic resulted in a double shock to Kenya, with both an economic and health crisis. When the first confirmed COVID-19 case was reported, the government provided several directives and instituted measures to contain the spread of the virus, including restricted geographical movement; stay-at-home directives; evening curfews; and various public health measures such as mandatory wearing of masks in public, social distancing, and hand washing and sanitising campaigns. Initially, 2% of the population tested positive, with a majority (85.9%) of these cases being asymptomatic. However, the incidence continued to rise, with urban areas reporting higher rates than rural areas. Like  many other countries, Kenya experienced several waves of infection and the introduction of new variants. Interventions have been guided by WHO guidelines,  adapted to the Kenyan context.
Table 1. Country Statistics – April 20, 2022

| | |
| --- | --- |
| First case | Mar 12, 2020 |
| Total cases | 323,646 |
| Total recovered | 317,882 |
| Deaths | 5,649 |
| Mortality rate | 1.7% |
| New cases per day | 24 |
| Positivity rate | 0.5% |
| Total doses administered | 17,826,600 |
| Fully vaccinated adults | 8,255,710 (30.3%) |
| Partially vaccinated adults | 2,635,173 |
| Fully vaccinated teenagers | 212,852 |
| Partially vaccinated teenagers | 804,875 |
| Booster doses delivered | 292,234 |
As measures were implemented across the country by the Ministry of Health (MOH) at the national level, 47 county governments innovated to adapt to the ever-changing situation. JLN Kenya saw the need to provide a platform for the MOH and counties to disseminate information, share experiences, learn from one another, and implement a feedback system. JLN Kenya held five 2-hour sessions focusing on different areas in response efforts. These kicked off on 15th May 2020 in partnership with the National AIDS and STIs Control Programme (NASCOP). Participants were policymakers and practitioners drawn from the national and county governments, and partners working in healthcare. The Ministry of Health provided the virtual meeting platform and technical support. The sessions covered the following:
COVID-19 Preparedness and Response – The guest speakers were Dr. Joel Gondi, Technical Advisor at the Director General's office at the MOH, and Dr. Anisa Omar- County, Executive Committee Member for Health in Kilifi County. The meeting focused on the sustainability of efforts, a proposal to consider a community health strategy and home-based care, and the need to embrace technology. There was an urgent appeal to the MOH to focus on Universal Health Coverage, even at this time, to strengthen the health system to deliver all needed health services and cope with any upcoming challenges.
Utilization of Community Health Services in COVID-19 response – Dr. Salim Ali Hussein, Head of the Department of Primary Health Care at the MOH, shared how the Community Health Strategy was applied in the pandemic, using the Community Health Volunteers to reach out to populations in prison, arid and semi-arid lands areas, and informal settlements. Volunteers also reached out to the youth population, motorbike riders that had high levels of exposure due the nature of their work, refugee and host communities, and people living with disabilities. Dr. Hussein also spoke to the gender-based and inter-faith approach and community surveillance effort. Homa Bay County shared their experience with community health workers (CHWs), particularly on the challenges of coordination, inadequate resources, non-compliance from the community, restrictions on social mobilization, disruption of outreach services, the ever-dynamic information on COVID-19, and exposure risk for the CHWs.
Maintaining essential services during the COVID-19 response – Dr. Agatha Olago, Head of the Division of Primary Health Services and Family Medicine at the MOH, shared the effects of the pandemic on essential services and their responses. Dr. Janerose Ambuchi, the Director for Medical Services in Busia County, illustrated their county's experience. The lessons that emerged were the importance of ensuring a resilient public health system that can respond to outbreaks, responding fast to incoming data for decision making, improving communication channels with counties, and investing in public health and primary health care.
Risk communication in the COVID-19 Pandemic – Gladys Mugambi from the Ministry of Health shared the National Communication Strategy based on the socio-ecological model and guided by the WHO's Integrated model for emergency risk communication. She shared the coordinated efforts in place for both the national and county governments.
Home-based isolation and care for COVID-19 – Dr. Salim returned to share guidelines for Home-based Isolation & Care (HBIC) released by the MOH and corresponding implementation efforts. He highlighted the use of the "Jitengee" mobile app developed to assist in HBIC. Dr. Aarif Varvani from Mombasa County, who led the county-level COVID centre, shared how Mombasa County coordinated care for home-based cases, highlighting the challenges of stigma, human resources, follow-up, and partnering with private health facilities. Participants present shared their challenges and benefits experienced in HBIC.
This was a great effort that facilitated useful linkages between the MOH and counties, and also between counties. It served as an opportunity for service providers and implementers to give feedback on the instruments and interventions that the government had put in place to respond to the pandemic. It was also a great launch pad for JLN Kenya as they work towards establishing a sub-national learning platform. CCG members were at hand to support the facilitation of the sessions.
As the country's COVID-19 response continues to evolve, the focus is now on vaccination, which began in March 2021 with the targeting of vulnerable populations. As of November 2021, vaccination is open to all adults and teens 15-17 year olds. The country is using 5 types of vaccines: AstraZeneca, Pfizer, Moderna, Sinopharm, and Johnson & Johnson. As of April 19, 2022, 30% of adults have been fully vaccinated, with great variation when disaggregated by counties (10-53%). The goal is to fully vaccinate 70% of the adult population and 50% of the teenage population by the end of June 2022, and the entire adult and teenage population by the end of 2022.
If you have any questions, or would like to learn more about Kenya's experience organizing sub-national JLN activities, please contact Esther at [email protected] and [email protected].