Women and Girls Drive Countries toward Universal Health Coverage
The theme for International Women's Day 2019 is "Think equal, build smart, innovate for change," a clear recognition that without women's experiences and perspectives being heard and understood, equity and universal health coverage (UHC) will not be achievable.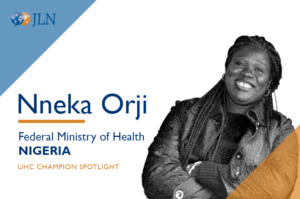 Thinking you can create a health care system that equitably meets the needs of everyone, including women, without understanding the barriers they face is impossible. You cannot build smart if you are developing UHC policies on assumptions about how people experience care in a health system. You cannot innovate for change when men are the only change makers being consulted.
Likewise, the Joint Learning Network for Universal Health Coverage's (JLN) joint learning approach recognizes that everyone has a role to play in designing  strong, equitable, and efficient health care systems to achieve UHC. That is why we connect our members to share their knowledge and experiences and to fully participate in translating knowledge into practical tools and guides to advance UHC.
We recognize that, around the world, women are already change makers—and UHC champions—in their own countries and communities. This International Women's Day, I look back to our profile of Dr. Nneka Orji-Achugo, a public health physician, health economist, and UHC champion working within Nigeria's Federal Ministry of Health. As a JLN representative and UHC focal officer at the Ministry, she is committed to improving health care delivery in resource-constrained settings.
 "As the UHC focal officer at the Federal Ministry of Health, I will stop at nothing in ensuring the UHC agenda remains at the forefront of our policy objectives. It is also my responsibility to increase stakeholder awareness on UHC initiatives and mobilize partners to rally around the government as we work towards achieving UHC."
When asked what one message she would like to share to encourage health systems practitioners and policymakers around the world working toward UHC, she answered:
"We have been entrusted with ensuring that everyone has equal and sustained access irrespective of geographic location, financial capacity, gender or age. On our honor, we must not fail the trusting population."

In the words of Dr. Orji, "UHC is everybody's business."
Read our full UHC champion feature with Dr. Orji.