Celebrating 10 Years of Joint Learning Toward UHC: State Social Health Insurance Schemes in Nigeria – The Journey So Far
December 11, 2020
Authors: JLN Nigeria Country Core Group and the World Bank Nigeria Health team.
As part of the JLN@10 celebrations, the Nigeria sub-national JLN Country Core Group (CCG) and the World Bank Nigeria office, in collaboration with the forum of CEOs of State Social Health Insurance Schemes (SSHIS) in Nigeria, hosted a virtual webinar to share and learn from the experience of Nigerian states in implementing health insurance decentralization reforms. The JLN has provided a platform for peer to peer learning amongst policymakers in Nigerian states as they set up their health insurance schemes. Facilitation support for the webinar was provided by the World Bank JLN DRM collaborative technical team. Following opening remarks by the Honourable Minister for State Health, Dr. Olorunnimbe Mamora, panelists shared their experiences in the operationalization, legislation, and implementation of the SSHIS and in establishing the Health Equity Fund as well as strategic purchasing at the state level. Forty-two participants discussed practitioner learnings from expanding coverage and the role of the SSHIAs in the implementation of the Basic Healthcare Provision Fund of the National Health Act of 2014.
The Nigeria sub-national Joint Learning Network for Universal Health Coverage is a state-to-state network that connects practitioners and policymakers to enable learning exchange and knowledge co-production in support of health care financing reform, both across states and between the state and federal levels. 
In 2015, Nigeria became one of the first Joint Learning Network (JLN) countries to establish a Country Core Group (CCG) –  a leadership team comprised of UHC stakeholders in government and partner agencies who identify critical learning needs in Nigeria to achieve UHC and how the JLN can meet those needs. The CCG operates with tripartite joint leadership between the Federal Ministry of Health (FMOH), National Health Insurance Scheme (NHIS), and the National Primary Health Care Development Agency (NPHCDA). 
Agenda Overview
Opening Remarks — Olorunnimbe Mamora, Ngozi Azodoh, Adeniyi Oginni, Somil Nagpal
Panel I – The Journey So Far — Nneka Orji, Ayodeji Ajiboye, John Onyeokoro, Agada Zuoboemi, Ben Nkechika, Adeniyi Ogini, Rock
Panel II – Strategic Purchasing at the State Level – What do we know? — Olumide Okunola, Nathaniel Otoo, Ahmed Danfulani, Aliyu Saidu, Ben Nkechika, Adeniyi Ogini, Agada Zuoboemi
Discussions and Way Forward — Nneka Orji, Ben Nkechika, Aditi Nigam
Wrap up and Closing Remarks — Ahmed Danfulani, Olumide Okunola
Group photo: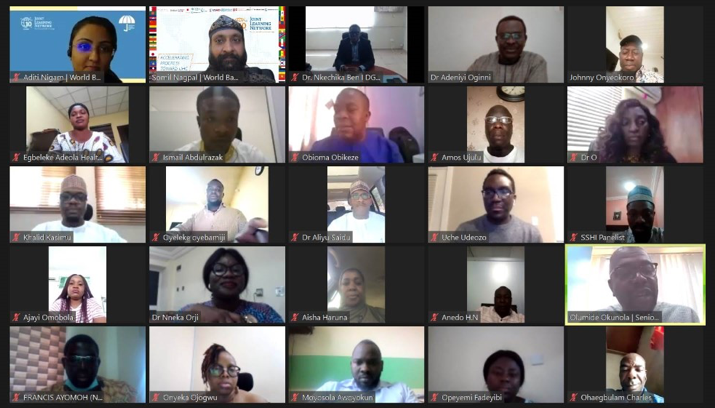 More Resources:
Nigeria, the JLN, and the Health Financing Technical Initiative
This webinar was part of the celebration of ten years of joint learning toward UHC. More information about the JLN@10 celebration can be found here.
Have any reflections from your JLN experiences? Please share them using the comments feature, below.