eModule: Costing of Health Services for Provider Payment Manual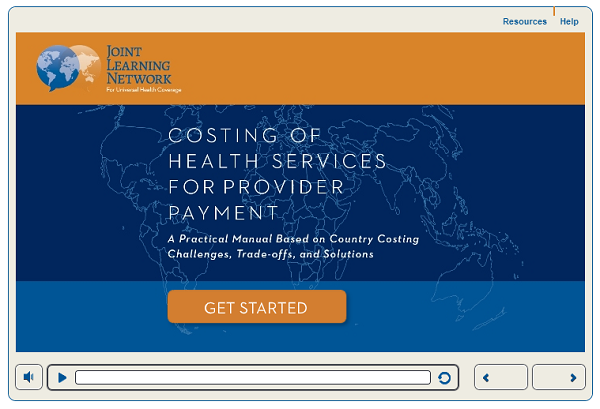 October 10, 2017
A digital companion course to the JLN Costing of Health Services for Provider Payment manual.
In partnership with the World Bank's Open Learning Campus, the JLN has developed an online Costing of Health Services course as a digital companion to the JLN product: Costing of Health Services for Provider Payment: A Practical Manual. 
This innovative online course introduces a new mode of learning to the JLN: integrating instructional technology with a concise and interactive version of the costing of health services manual developed during the JLN's collaborative learning process in order to produce the JLN's first digital companion product.
The module was designed as a complementary tool to the costing manual and its online repository of resources; compressing the Costing Manual into targeted learning exercises, which can be digested quickly to meet the rapidly evolving knowledge needs of the busy practitioner. The online course walks the practitioner through each of the ten steps of the costing exercise in an engaging and interactive manner, making the knowledge easy to access and apply, while sparking the participant's interest to explore costing in greater depth and detail.