Provider Payment Mechanisms (PPM) Podcast: The Who, What and How of Paying for Health Services for Universal Health Coverage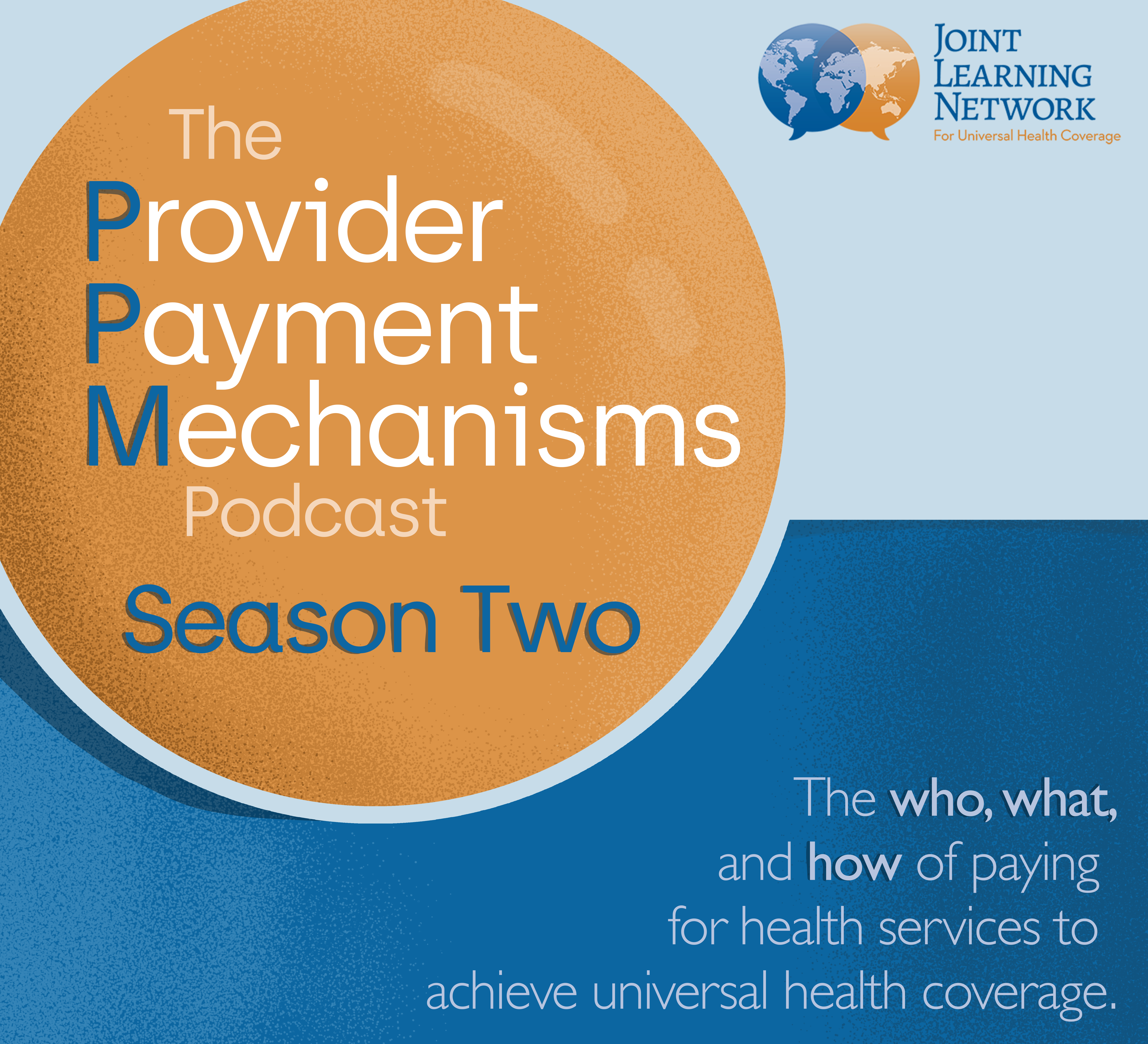 June 25, 2021
Welcome to the Provider Payment Mechanisms (PPM) Podcast: The Who, What and How of Paying for Health Services for Universal Health Coverage
The Joint Learning Network for Universal Health Coverage (JLN) Provider Payment Mechanism (PPM) Technical Initiative constitutes technical experts, policymakers and implementers across twenty countries, developing practical solutions and distilling best practices for PPM reform to support the achievement of universal health coverage (UHC).
In 2019, the  JLN PPM Technical Initiative developed a podcast miniseries as a joint learning modality to create an accessible learning tool that captures country insights and experiences in the voices of implementers. Season One described the core building blocks of strong provider payment – improving benefit packages, costing to improve the design of provider payment, and utilizing provider payment to achieve health system goals. 
To continue our goal of developing knowledge products to support the attainment of UHC, the PPM Technical Initiative created Season Two which captures the voices of implementers from seven countries – Egypt, Ethiopia, Liberia, Malaysia, Liberia, Moldova, Mongolia and the Philippines. Implementers from these countries share their experience implementing provider payment reforms, solutions to common roadblocks and obstacles, and improving strategic purchasing in their journey to achieve UHC.  
Season Two aims to amplify the building blocks established by Season One. Countries build upon this foundation and delve deeper into i) strategic purchasing as a lever for UHC, ii) utilizing data systems to make strategic purchasing decisions, and iii) incentivizing providers to provide quality health services. 
The conversations that make up Season Two represent the experiences of seven countries as well as synthesized learnings from technical experts. The series will be launched on July 7th and we hope that you will tune in! 
Use this link to register for the webinar launch on July 7th 12.30p.m. GMT.
Opening Episode
Season Two kicks off with our country facilitators, Dr. Kamaliah Noh and Tsolmon Tsilaajav, reflecting on using Podcasts as an accessible and dynamic tool for sharing implementation experience in Season One. Dr. Kamaliah and Tsolmon discuss the elements of strategic purchasing covered in Season One and introduce the three topics that will be covered in Season Two: strategic purchasing reforms as a lever for universal health coverage, using data analytics to support strategic purchasing decisions, and incentivizing providers to provide quality services to the covered population. This episode will be launched on July 7th and we hope that you will tune in! 
Use this link to access the opening episode.