Using Strategic Communications in Nigeria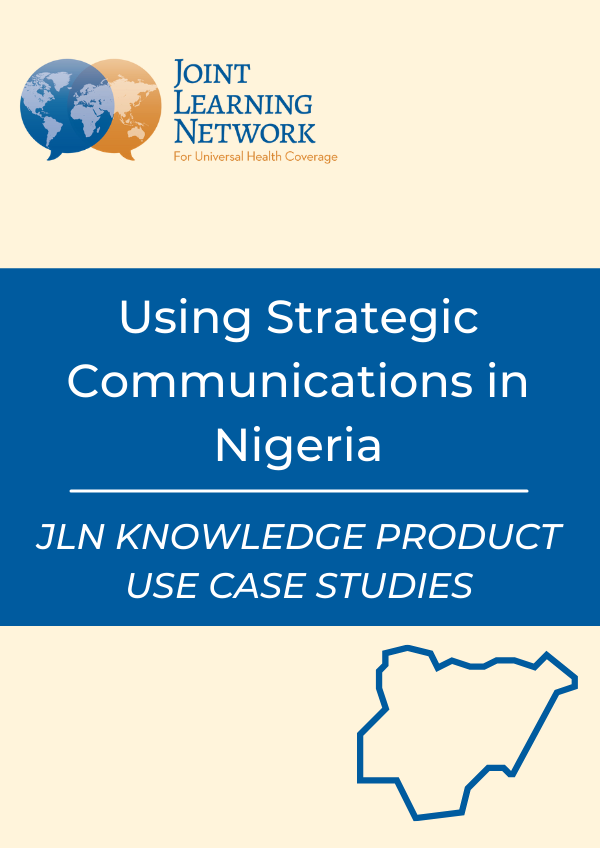 June 24, 2021
Nigeria's implementation of the Strategic Communications Practical Guide and Strategic Communications Planning Tool to address underlying facilitators and barriers to the BHCPF led to the first appropriation for the fund and an increase in interest in BHCPF services. The communication plan is thought to have improved the targeting and perception of the rollout communication processes.
In 2014, the Government of Nigeria signed the National Health Act into law. The act provides a legal framework for the coordination of the three health care agencies and the entire health system in the country. The Federal Ministry of Health (FMOH), the National Health Insurance Scheme (NHIS), and the National Primary Healthcare Development Agency (NPHCDA), including their corresponding state-level and local government structures, are mandated to implement the specific provision, known as the Basic Health Care Provision Fund (BHCPF), which focuses on removing financial barriers for primary healthcare, particularly for poor and vulnerable Nigerians. This sweeping health reform did not, however, provide an operational roadmap to implement the BHCPF. There were many challenges with operationalizing the National Health Act including but divergent views within the federal government about how to best implement provisions. This case study profiles the use of the Strategic Communications Practical Guide and Strategic Communications Planning Tool in Nigeria to align stakeholders to ultimately operationalize the BHCPF. A team from the Nigeria CCG participated in the Strategic Communications for UHC collaborative funded by the United States Agency for International Development (USAID) through the Health Finance and Governance (HFG) Project and in the co-development of the collaborative outputs which were then customized and used in Nigeria to aid in the BHCPF rollout.
The team was able to use these JLN tools to gain a better understanding of key stakeholders in order to better target them with pertinent information. The team also used the stakeholder analysis data to design their action plan, including prioritizing key audiences and co-creating messages specific for these audiences, including specific information to address barriers for community members, health facility workers and budget holders. Ultimately in 2018, the FMOH team received the first appropriation for the BHCPF of approximately USD180 million. This was an accomplishment four years in the making, from the signing of the health law through the development of the implementation and communication plan.