Health Financing
Why Health Financing is Critical for Universal Health Coverage. Without financial resources, universal health coverage (UHC) – a United Nations Sustainable Development Goal (SDG) emphasizing that everyone should have access to the quality health services they need, and that the use of these services does not expose individuals to undue financial hardship – cannot be achieved. High Performance Health Financing ensures that the resources being used to finance UHC are adequate and sustainable, sufficient to spread risk, as well as efficient and equitable. In this way, high performance health financing also helps to build healthier, more productive populations that can contribute to improved human capital, and in turn, sustainable and inclusive growth.
The focus on effective service coverage and financial risk protection goals under UHC underscores that the way countries finance their health systems matters. Health financing policies address the functions of pooling and purchasing (i.e., how funds are organized and used) and revenue raising (i.e., the level and source of funds), and can help to achieve these goals. In developing countries, domestic public funds – in the form of mandatory, pre-paid and pooled resources – are an essential component of High-Performance Health Financing and progress toward UHC. As such, many policies for high performance health financing in resource limited settings focus on maximizing fiscal space for health through Domestic Resource Use and Mobilization (DRUM), or how domestic resources are mobilized (DRM) and then effectively and efficiently used.1 However, meaningful exchange and dialogue on the "how to" behind policy options is needed in order to move them to action—especially in a post-COVID world where fiscal space is reducing and difficult choices need to be made for prioritization of resources among and within sectors.
The Health Financing Technical Initiative (HFTI). Based on country surveys and responding to a high demand for a technical area on health financing to be part of the JLN's offering, the HFTI was launched after additional rounds of consultations with JLN member countries and the JLN Steering Group in 2016. Consultations revealed that as countries move towards UHC, their health financing systems are undergoing rapid change and are faced with additional pressures related to transitioning external support, mobilizing domestic resources for health, and efficient allocation of resources given competing priorities. Revisiting conventional financing practices in a peer-to-peer knowledge exchange setting was thus seen as a valuable way forward for countries to gain practical know-how and technical support from each other. To respond to this need, the HFTI made available the following platforms for joint learning: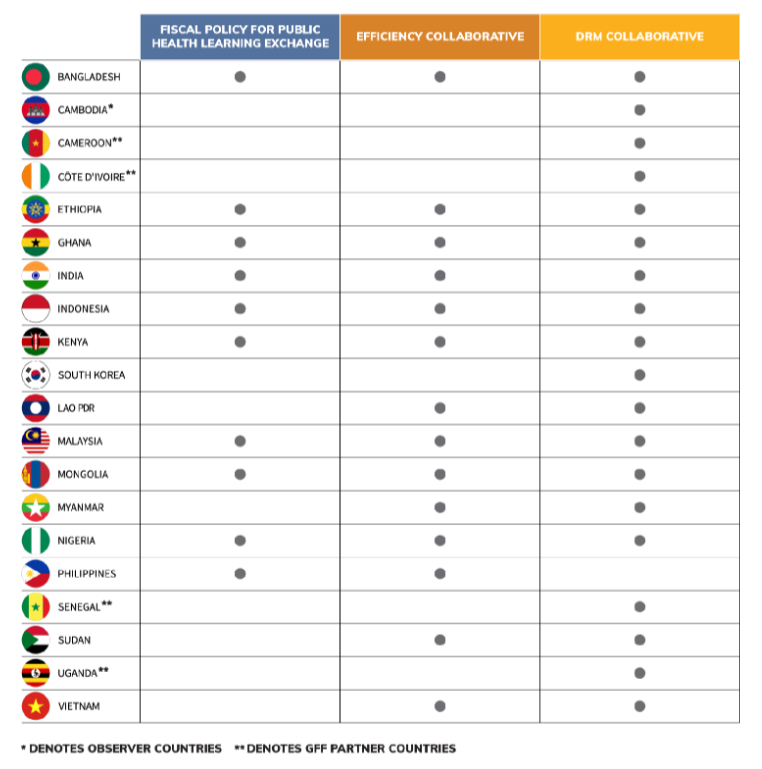 .
1 Summarized from Tandon, A. (2020) Global Landscape: Fiscal Space for Health