Connecting Health Information Systems for Better Health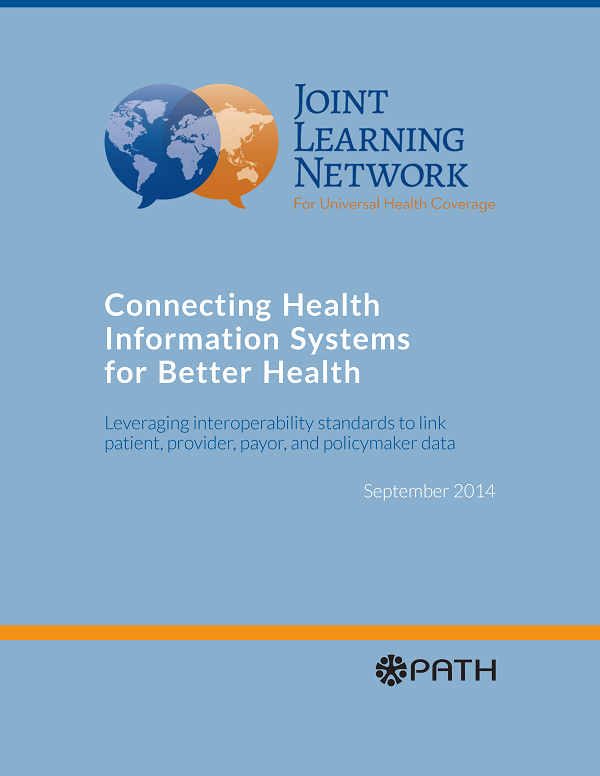 October 29, 2014
Connecting Health Information Systems for Better Health: leveraging interoperability standards to link patient, provider, payor, and policymaker data eBook, developed by PATH for the JLN Information Technology Technical Initiative, is a reference guide for countries wanting to link their universal health coverage (UHC) and eHealth information systems using a standards-based approach.
This eBook addresses the needs of varied stakeholders. It provides ministry decision-makers and health system planners with an overview of how information and computer technology (ICT) may be employed to simultaneously support care delivery workflows, provider payment workflows, and the generation of health system management metrics and indicators. For teams tasked with developing the blueprints for eHealth or UHC initiatives, it describes a straightforward, step-by-step process to guide the development and documentation of ICT health systems and the evolution of these systems over time. It also provides guidance to help ministries select and specify the norms and standards needed to achieve national-scale system-to-system connectivity. The eBook is informed by on-the-ground experiences from a number of countries, including Canada, Colombia, India, the Netherlands, the Philippines, South Africa and Thailand. These first-hand stories are documented in the text and through multimedia interviews.
The goal of the eBook is to contribute to the growing body of work regarding UHC and eHealth and is intended to be a companion piece to the ITU-WHO eHealth Strategy Toolkit and to JLN documents and tools about UHC and provider payor systems.
Please find below a web version and PDF version of the eBook:
PDF version of the eBook is best for downloading and printing.
Web version of the eBook is best for online reading and includes interactive video.